2016 Volkswagen Passat named Best Mid-Size by Cars.com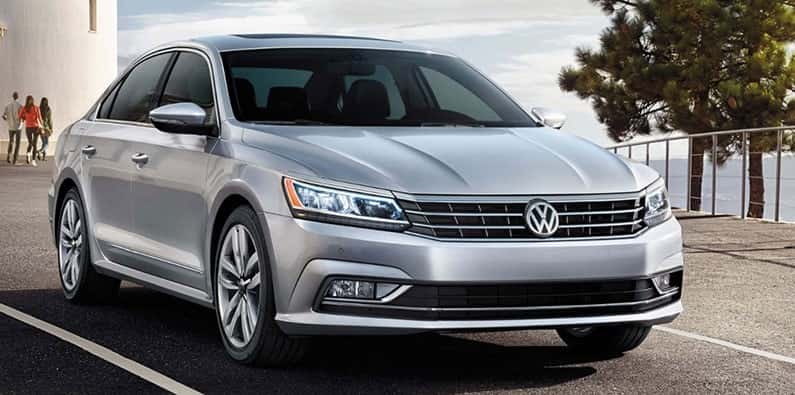 Volkswagen of America, Inc. is pleased to announce today that the new 2016 Volkswagen Passat has taken top honors in Cars.com's Midsize Sedan Challenge. Put to the test against eight of the most popular 2016 models, the Passat won judges' hearts with its spaciousness, safety, available VW Car-Net® App-Connect technology, and most of all, its fun-to-drive nature.
To make it into the 2016 Midsize Sedan Challenge, each vehicle had to have an automatic transmission, have an EPA estimate of at least 28 mpg combined and have a Manufacturer's Suggested Retail Price (MSRP) of less than $28,000. Vehicles were evaluated by a panel of expert judges and an Atlanta couple in the market for a new sedan on a 220-mile road course looking at overall ride, acceleration, handling, braking, features, cargo space, technology and more.
Here's How They Ranked
2016 Volkswagen Passat
"The Passat came in first place with both our expert judges and in-market shoppers," said Patrick Olsen, Cars.com's editor-in-chief. "This midsize sedan is a refreshed version of the Passat that won Cars.com's Best of 2012 award; it's still tremendously roomy and for 2016 got a ton of tech upgrades like Apple CarPlay and Android Auto integration. In addition to the roominess, tech and safety, the standout feature of the Passat is its driving ability. Everyone who drove it unanimously agreed, the Passat is plain old fun to drive."
2016 Kia Optima
2016 Chevrolet Malibu
2016 Hyundai Sonata
2016 Honda Accord
2016 Subaru Legacy
2016 Toyota Camry
2016 Mazda6
2016 Nissan Altima
"We are thrilled for the Passat to be named Best Midsize Sedan by Cars.com against such formidable competition," said Hinrich J. Woebcken, President & CEO, Volkswagen Group of America, Inc. "The Passat offers the perfect combination of sophisticated styling, outstanding App-Connect technology, and the great driving dynamics that Volkswagen is known for, making it an outstanding consumer value."
Midsize sedans are the best-selling car segment in the U.S., but according to Olsen, "For years, this segment really blended together with unimpressive features, a mediocre ride and generic design. Today's midsize sedans are of an entirely different breed with impressive technology, driving ability and sleek design."
Overall, the 2016 Passat features a winning combination of interior and exterior design, technology, available driver assistance systems, and a powerful and highly efficient base engine. The starting MSRP for the 2016 Volkswagen Passat is $22,440. The SE model tested by Cars.com has an MSRP of $26,280 and includes features such as VW Car-Net App-Connect technology, Adaptive Cruise Control, Forward Collision Warning and Autonomous Emergency Braking, heated front seats, and a sunroof.