Advantages of Purchasing a VW Certified Pre-Owned Vehicle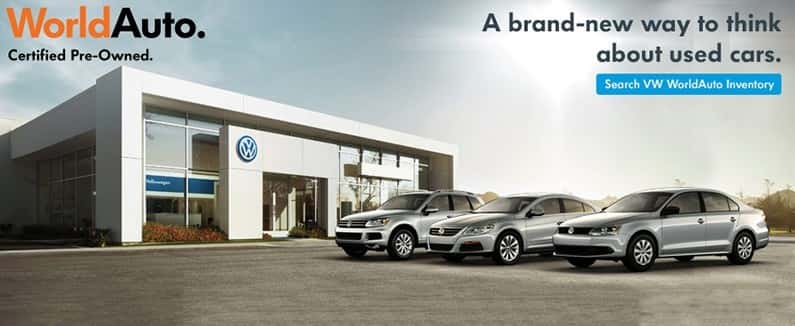 Let's say you're in the market for a new car. For whatever reason you've decided you don't need a brand spanking new vehicle. That leaves two options: used, and certified pre-owned. So what's the difference? In general, used vehicles pretty much come as is. The dealer may offer a couple free oil changes, car washes or perhaps one of those scented pine trees to hang from your rearview mirror. With a VW certified pre-owned vehicle, you get so much more.
Buy a Quality Volkswagen without Guessing
Choosing a certified pre-owned Volkswagen means you'll be getting a high quality used car, truck or SUV. Our certified pre-owned vehicles undergo a rigorous 112 point inspection. Our CPO vehicles are less than 5 years old from the original in-service date, have less than 75,000 miles on the odometer and are far safer than a regular used vehicle. In short, with a CPO Volkswagen, you'll rest easy knowing you're buying a reliable car, truck or SUV.
Only Vehicles in the Best Condition Qualify
Late-model, low-mileage vehicles with clean vehicle history reports are accepted into certified pre-owned programs sponsored by auto manufacturers. If a vehicle doesn't meet specific requirements, then it simply won't qualify to become CPO.
Low Interest Financing
It's true that CPO vehicles are usually more expensive than similar models that haven't been certified, but CPO vehicles may also qualify for lower finance rates, normally equal to the loans offered on new vehicles. If you're looking to finance your CPO vehicle, the lower interest rate can effectively lower the monthly payment.
Roadside Assistance
Here at Stone Mountain Volkswagen, our certified pre-owned vehicles come with free 24-hour roadside assistance that lasts for the duration of the extended basic warranty coverage. This service will assist you in case you run out of gas, get locked out of your vehicle or need a jump-start, among other unforeseen emergencies.
Benefits of Purchasing a CPO
A few benefits of purchasing a CPO from Stone Mountain Volkswagen are:
All CPO vehicles undergo a thorough 112 point inspection
You'll receive a detailed list of the inspection which includes recall work, if any
2-year/24,000 mile Limited Warranty with no deductible
Optional Protection Plus Extended Warranty
24-Hour Roadside Assistance
3-month subscription to Sirius Radio
CarFax Vehicle history report
Subscription to Dealer Magazine
Whether you're looking for a certified pre-owned or new Volkswagen, make your way over for a test drive. You'll find us at 3500 Stone Mountain Highway in Snellville, GA.. If you prefer to set up an appointment, call us at 844-860-1053. Our financing department will make sure to get you the best payments possible so you can drive off our lot with your new or certified pre-owned Volkswagen.