Volkswagen Adds Amazon Alexa to its Vehicles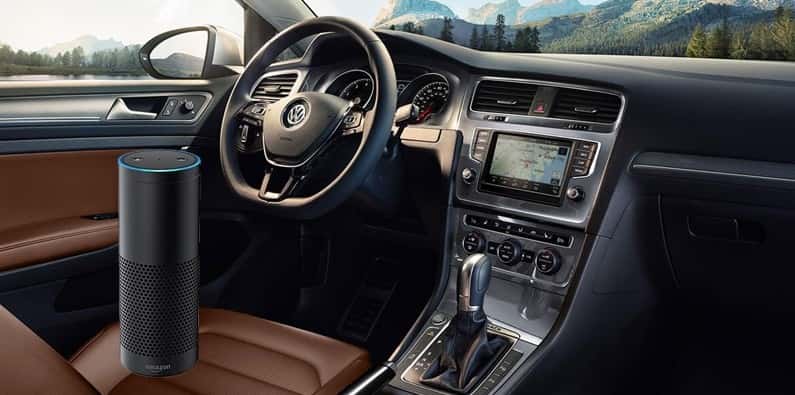 Volkswagen has taken another bold step forward by integrating state-of-the-art technology into its industry-leading vehicles.
The race for the best-selling vehicle on the road has changed over the years. The promise of more horsepower, safety features, aerodynamics, off-road capabilities and fuel-efficiency have all been rally cries for manufacturers that their automobile is ahead of the pack. Today's race to be the best is all about technology and Volkswagen has taken a giant lead by being the first to integrate Amazon's Alexa into its vehicles.
Some automobile systems designed this feature in a less than user-friendly fashion that requires a smartphone to install an Alexa app. Volkswagen jumped ahead of the field by putting a real-life Alexa directly into the info-entertainment system.
Amazon's Echo burst onto the world stage during the holiday gift-giving season and has been making headlines ever since. Its remarkable abilities and diverse functions are making it a must-have device. The personalized voice-command mini system plays music, looks up information, provides tailored news searches and sports updates, acts as an alarm clock and more. It can even be programmed to regulate your home temperature and manage the lights. Volkswagen has every intention of adding all of these AI capabilities. Drivers and passengers will be able to ask it questions, tap into playlists and the German car-maker will take those conveniences even further.
Home-Auto Connection
The next generation of Volkswagen owners will enjoy the ability to connect from their vehicle to their home-based Echo and command Alexa to turn on the lights and tweak the climate before pulling into the driveway. Think about the safety feature of having your exterior lights shining at night upon arrival. That super-connectedness will also run both ways and Volkswagen owners gain the ability to check on their car's status while sitting on the sofa. Can't remember if you locked the vehicle? Alexa can take care of that for you.
From your own living room, you can connect to your Volkswagen in the driveway or garage and check how much gas is remaining in the tank. If you have an e-Golf, Alexa can tell you how much battery power the vehicle has available. You'll be able to buy replacement windshield wipers while driving or sitting at home, as well as other auto-related parts and amenities. The device is aware of the exact make and model of your vehicle and is linked directly to Amazon. That makes it a one-stop, voice-command shopper. You won't even need to swipe a credit card.
Smart Navigation System
Drivers will no longer need to use their hand-held phones or cumbersome navigation devices. In fact, Alexa outpaces other systems in several ways. You will be able to plot your course at home before ever entering the vehicle. The friendly AI helps find the best route and pauses the radio or other media to discuss directions and alternatives. Location-based reminders will also be integrated. Restaurants, coffee shops, outlets and other favorite places along the path can be conveniently noted by Alexa during travel. You won't forget to pick up the dry cleaning or milk because Alexa will remind you.
Of all the technological advancements being made in the auto industry today, welcoming Alexa into your Volkswagen will transform every owner's driving experience exponentially.