Volkswagen introduces the All-Electric Volkswagen I.D.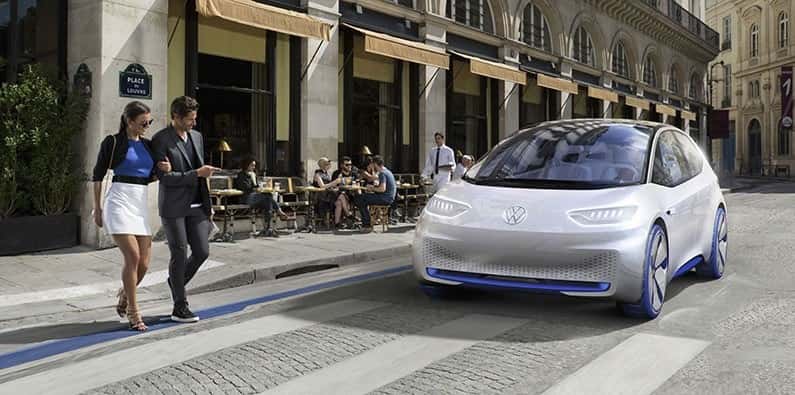 In September, Volkswagen revealed its new long-range electric car concept, and in terms of pricing and capabilities, it's light years ahead of anything projected to grace the market anytime soon.
Volkswagen I.D.
Dubbed the I.D., VW's new electric concept vehicle is anticipated to cost under $30,000, which is cheaper than the Chevrolet Bolt and Tesla Model 3. Reportedly, the I.D. will have much greater range, and it could travel up to 375 miles on just one charge, Volkswagen said before the Paris Motor Show unveiling. The only catch is: It won't be available for purchase until 2020, and there's no way to know how much headway competitors' electric cars will have made by then.
Price Point
Chevrolet's Bolt goes on sale this month, and pricing starts at $37,500, before tax breaks. The Bolt has a range of 238 miles. Tesla's Model 3 goes on sale late 2017 with prices starting at $35,000 and an operational range of 215 miles. Comparatively, the VW I.D. represents a serious threat to these brands. But before comparing these cars, it's worth noting that there are different metrics by which to calculate the range of EVs, and it's unclear what method was used by VW. Because the I.D. lacks a heavy internal combustion engine, engineers were able to maximize the interior space. While the vehicle is roughly the same size as the VW Golf on the outside, inside it's as roomy as the mid-sized VW Passat, according to the company.
The I.D. will come with ultra-thin blue tires and an illuminated VW insignia, which conveys an idea of what it's projected TRON-like appearance. Executives at VW said it will cost about the same as a "fully-equipped Golf diesel." That puts its price at just under $30,000 USD. The I.D. won't be self-driving when it debuts, but it will possess all hardware needed to convert it into a fully autonomous vehicle; sensors, computers, fly by wire hardware and the like.
When Will We See the I.D.
The Volkswagen Group, which owns Volkswagen, Audi, and Porsche, has ambitious plans for the EV lines for all their companies and expects to roll out 20 electricplug-in cars before the I.D. even hits the showroom. Volkswagen currently has two electric cars on offer, the e-Up and the e-Golf, both of which are available in gas and diesel powered versions. The I.D., however, was engineered as a strictly electric car.
While the many ground-breaking technological features of the I.D. sound very exciting and futuristic, it's still only a concept vehicle, even if the company sounds confident about its 2020 launch date. The autonomous driving system is an even farther off reality. So, it may be best to take all of this with a grain of salt and to see it not so much as a promise of what's to come in 2020, but what will be possible by that time.