VW Introduces 2018 Tiguan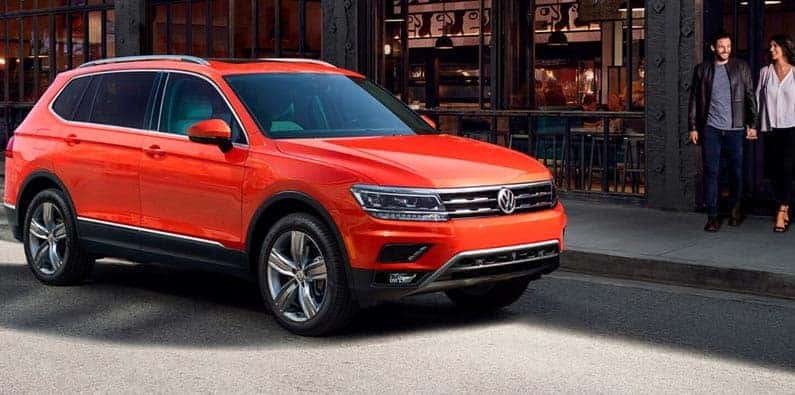 The all new 2018 Volkswagen Tiguan is the vehicle that Volkswagen hopes will please everyone. It features a third row for plenty of room, an efficient engine to help with fuel economy, can go off-road, and is affordable. If you are considering the 2018 Volkswagen Tiguan, you want to make sure it is the right vehicle for you. The Tiguan has been on the market since 2007 but the 2018 model is undergoing a lot of changes.
Engine Upgrades
The engine upgrades are possibly the most notable with the changes made to the vehicle. It features a 2.0 liter B-Cycle engine that is a EA888 direct injection, four-cylinder, and turbocharged engine. It is an engine that puts a focus on efficiency instead of performance. It has a fuel economy of a 1.4 or 1.5 liter engine which increases the miles per gallon by 8 percent when compared to other 2.0 liter engines. It is expected to get about 29 miles per gallon on the highway. With the added third row, it does lose some horsepower from the previous year but it has added torque. It has the ability to generate 184 horsepower and has 221 lb-ft of torque. There is only one engine choice in the 2018 Volkswagen Tiguan. Under the hood is also an eight-speed automatic transmission to go with the engine.
All Wheel Drive
The 2018 Volkswagen Tiguan will feature the fifth-generation all wheel drive system from the automaker. It is the same system that is in the Atlas and the Golf. The system features four different driving modes: On-Road, Off-Road, Custom Off-Road, and Snow. You can engage each of these easily within the cabin of the vehicle. You can even make your own settings using the custom driving mode. Additionally, within the On-Road option are other options for you to choose from including normal, eco, sport, and even more custom settings. All of these settings help with engine control, gearing, and steering depending on where you are driving.
Technology and Safety
Of course, safety is always a huge concern and technology makes a vehicle that much more fun to operate. You will find plenty of new additions within the 2018 Volkswagen Tiguan to meet both of these needs. It features both Hill Start Assist and Hill Descent Assist when you are on steep parts both on the road and off the road. There are LED daytime running headlights and taillights to make sure that you can see and be seen.To help you with better visibility, there is a rearview camera. Some of the other technologies and safety features include adaptive cruise control, blind spot monitoring, pedestrian monitoring, automatic post-collision braking, lane assist, rear traffic alert, park assist, and automatic dimming headlights.
There are many different changes coming to the new model year of the Tiguan and they are all designed to make it more desirable. If you would like to try it for yourself, be sure to come to our showroom today.